Story Massage
Story massage brings stories and massage together as a fun and inclusive therapeutic activity.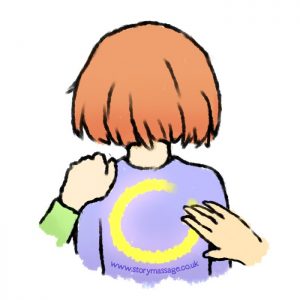 It offers a fun and fully inclusive way of combining the creativity of story, song and rhyme with the benefits of positive touch.
Everyone can join in, whatever age or ability.
It engages children and adults using ten simple but effective massage strokes which are associated with spoken words.
What are the Benefits of Story Massage?
Physical, emotional, social and educational benefits.
Improved calmness and concentration
Increased self-confidence, self-awareness and self-esteem
Improved social skills
Increased engagement in activities
Better communication
Building respect and positive relationships.
Story massage promotes literacy and creativity and can be used to fit in with the national curriculum. The story telling element helps encourage children's imagination and desire to read and write.
Story massage for children with Autism.
Not all children enjoy touch so the story massage programme helps children experience respectful touch in a safe and supportive environment.
It helps with relaxation, touch tolerance, emotional regulation, increased concentration, better sleep and social connection.
The combination of words and massage strokes helps children relax, gain eye contact and develop communication.
Massage releases the feel good hormone oxytocin to help calm the nervous system so they feel happy and relaxed.
Social interaction – many children with autism tend to work individually and can be averse to giving and receiving touch. Story Massage encourages social interaction through peer massage. They can start massage on themselves, then work in pairs before peer massage.
Preparation for Change – children can find it challenging to cope with change so story massage can help them prepare for this. Social stories combined with story massage strokes can help them prepare for any change to their usual routine.
Better sleep – a social story written about a bedtime routine supported by massage strokes will help calm and relax a child for a better night's sleep.
How Story Massage is used in our school
Each term, nine classes have weekly half hour story massage sessions.
Depending on the age group of the class, this might be nursery rhymes, songs or stories.
The children are shown some of the ten massage strokes to do whilst singing or listening to a story. They are taught to respect each other by ensuring they ask permission to do a massage on another child and to thank them when the massage has finished.
For older children, story massage is based on their class topic or on events that may be happening that week like Christmas or Easter stories, Sports week, Well-Being week, Emotions, Safer Internet Day and World book day.
Some weeks we run themes such as Under the Sea, Animal Safari, At the Circus and Space and the children really enjoy taking part in the dressing up or wearing various masks to feel part of the theme!
Creative writing can be encouraged by asking the children to write their own stories then selecting the relevant massage strokes to support their story.
These are just a few benefits of story massage so for further information on this programme please visit: www.storymassage.co.uk or contact school.