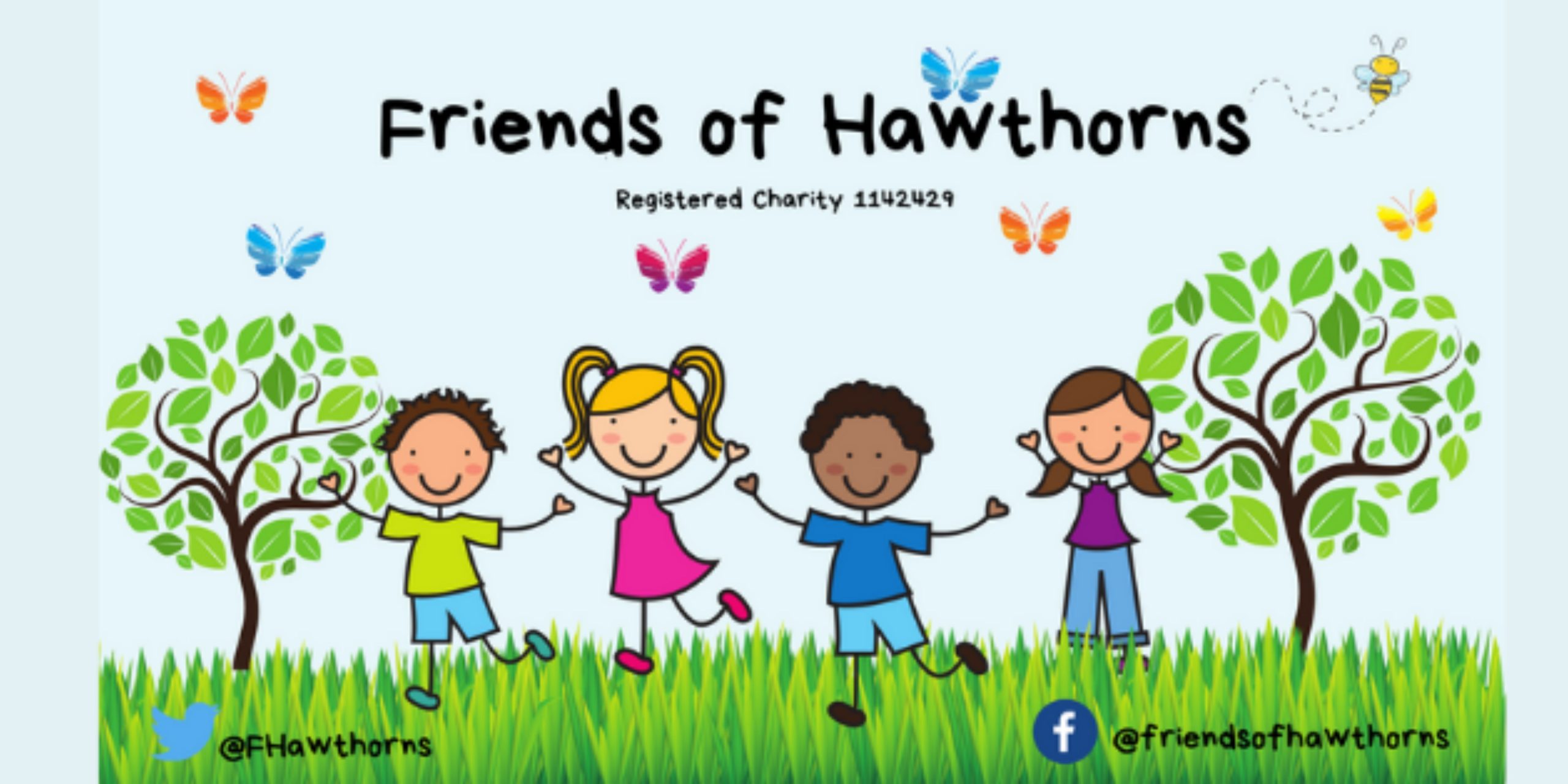 Friends of Hawthorns Charity
Friends of Hawthorns is a member's organisation established to support the school and pupils with fundraising for equipment and activities.
It has charitable status (1142429) and families, friends and staff who are over 18 and associated with the school are welcome to become members . More importantly, supporting Friends of Hawthorns events will enable the association to continue to support the school and pupil whatever needs are identified.
To keep updated with upcoming events please follow our Facebook page,  @friendsofhawthorns and Twitter page, @FHawthorns.
We are now registered with Easy Fund Raising. Signing up is really easy. Select Friends of Hawthorns as your selected charity and use the easy fundraising portal when shopping online. Every time you do this, Friends of Hawthorns receives a donation.   For more information about how to sign up click here
We are also registered with Amazon Smile, to support us simply registered with Amazon Smile and add Friends of Hawthorns (charity No 1142428) as your chosen charity. Friends of Hawthorns will receive a donation each time you shop online through Amazon Smile
Latest Event – Christmas Coffee Morning and Santa's Grotto
Audenshaw Site
On December 3rd we shall be running our Christmas coffee morning. Parents/ carers, family members who have children at Hawthorns are invited to come along and meet other parents as well as visiting Santa's Grotto with their child.
Discovery Site
The Christmas coffee morning and Santa's Grotto will be held at Discovery on Friday 3rd December 9:30am till 11:30am.
Ticket order forms will be sent home with your child in the coming weeks.
Christmas Colouring Competition
Children will have the opportunity to take part in our annual Christmas colouring competition. There will be 4 groups, each with 1st, 2nd and 3rd place.
To enter, simply return your child's entry with £1, adding their name and class on the back of the entry.
Raffles
We shall also be holding a Christmas raffle. More information about this and all other Christmas activities will be added to our Facebook and Twitter pages.
During December Friends of Hawthorns will be running Christmas events and activities.
Christmas Raffle
From Tuesday 23rd November we will start selling raffle tickets for our Christmas raffle (for more information about the prizes up for grabs, please visit our Facebook Page @friendsofhawthorns)
The raffle tickets will be £2 per strip. To purchase raffle tickets please send your money in an envelope with your child's name and amount – stating Christmas Raffle Ticket Money. Purchases of tickets cannot be made through Parentpay. The raffle will be drawn on the afternoon of Monday 13th December. Winners will be announced on our Facebook page.  
Christmas Hamper Prizes
We will also be selling raffle tickets for our Christmas Hampers, which will be drawn after the Nativity performances. £2 per strip. To purchase hamper raffle tickets please send your money in an envelope with your child's name and amount – stating Christmas Hamper Raffle Ticket.
Colouring competition – Wednesday 1st December. £1 per entry. There will be 4 age groups, each with a 1st prize winner. Each child will be sent home with the colouring page To enter, return the completed entry with money in an envelope stating colouring competition.  Winners will be announced on December 16th.
Hazel, Ash and Oak,
Rose, Fern, Rowan, Elm, Buds
Cherry, Holly, Aspen, Willow and Elder
Sycamore, Maple, Chestnut, Beech and Blossom
Christmas Coffee Morning/ Santa's Grotto Dates
Audenshaw Site Friday 3rd December. 9:30am till 12:30pm.
Discovery Site Friday 10th From 9:30am 12pm
The coffee mornings will include refreshments, a wine or water stall, chocolate tombola and 'guess the weight of the Christmas cake'.
Some of our older children will also lead some Christmas songs. (Audenshaw site only).
Santa's Grotto – Children can meet Santa. Parents/ carers are welcome to go in the grotto with their child. Non school age siblings are welcome to. (See separate letter for more details of prices etc.) Children can come to school wearing Christmas jumpers/ clothes on the day of their grotto.
All monies raised from the Christmas activities goes back into school through Friends of Hawthorns, but we need your help to make this happen. We are looking for donations of wine and chocolate to make the coffee morning stalls a success. Please can these be sent into school with your child. *Wine to be handed to staff or bus escorts.
Thank you for your support
Friends of Hawthorns