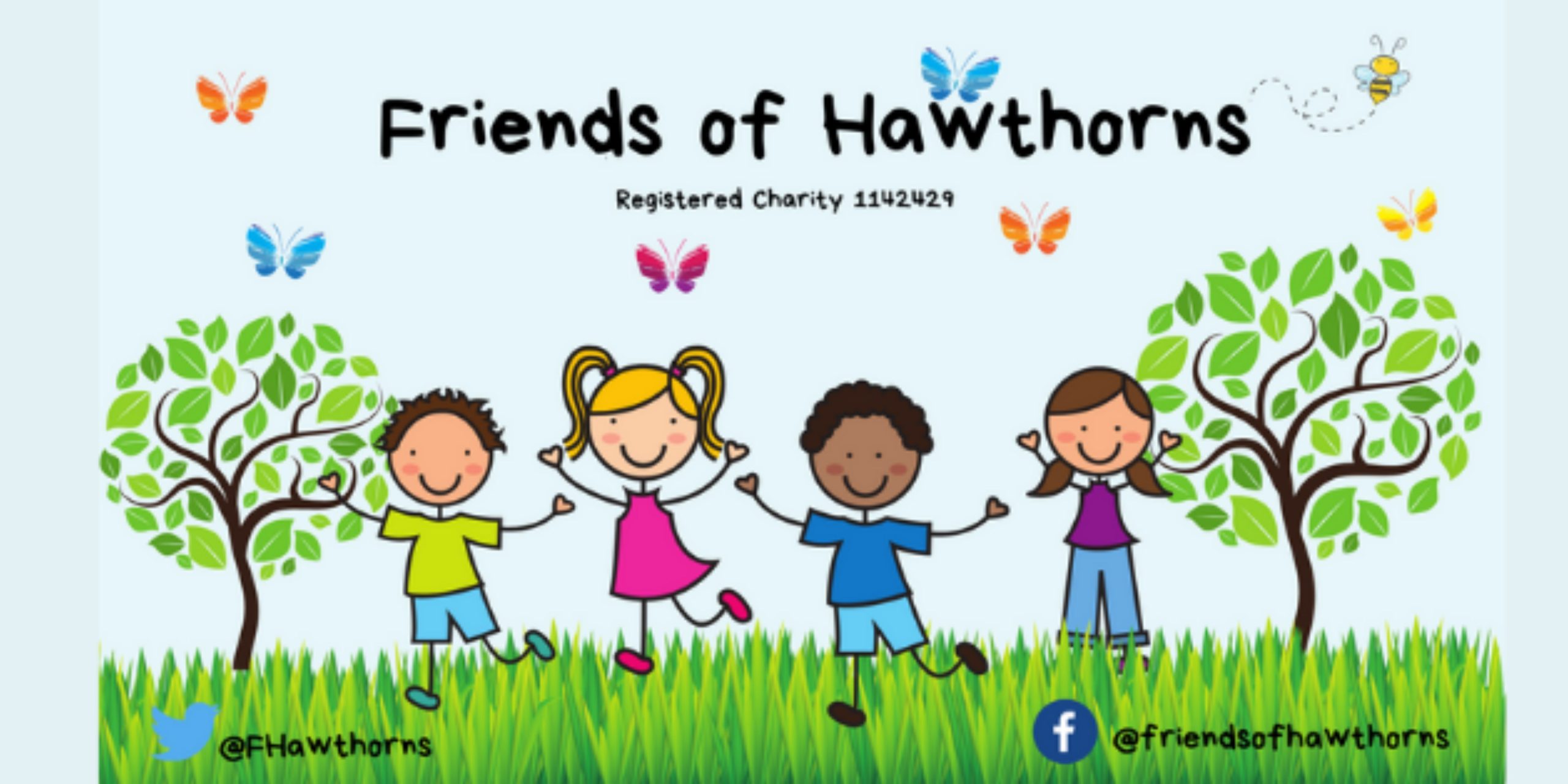 Friends of Hawthorns Charity
*LATEST NEWS:  Easter Raffle and Colouring Competition
We are now selling tickets for our Easter Raffle.  1st prize is an Easter Goody Bag (click here to see what is included in the prize)   2nd Prize is a Cadbury's Mini Egg goodies.  Tickets are £1.50 per strip.  The 2 winning tickets will be chosen on Wednesday 29th March.  Good luck to everyone who enters!
We are also running a colouring competition for the children.  The 5 lucky winners, (1 winner from the five groups) will win a Haribo Easter sweet mix and a bag of Smarties mini eggs.  Click here if you need a spare copy of the colouring page.   £1 per entry.  The winners will be chosen on Thursday 30th March.
Group 1 – Hazel, Ash, Buds, Rose and Rowan   Group 2 – Oak, Cherry, Olive, Elm, Fern   Group 3 – Pine, Aspen, Elder and Holly    Group 4 – Blossom, Poplar, Elder and Beech  Group 5 – Chestnut, Willow, Maple and Sycamore
Friends of Hawthorns is a member's organisation established to support the school and pupils with fundraising for equipment and activities.
It has charitable status (1142429) and families, friends and staff who are over 18 and associated with the school are welcome to become members. More importantly, supporting Friends of Hawthorns events will enable the association to continue to support the school and pupil whatever needs are identified.
Calling all fundraisers!
Are you interested in supporting the Friends of Hawthorns charity to raise much needed funds for activities and equipment for all the children of Hawthorns school?
Do you have any creative talents or hobbies that could be used to raise funds within the wider community, e.g., cake bakes, sponsored bike rides?
We are also looking for any local businesses who would be interested in supporting Friends of Hawthorns with charitable donations.  Do you know any business that would be interested in supporting us?
As you will be aware, Hawthorns school community has increased massively, which has meant we have had to create two satellite provisions across Tameside. (EYFS is based at Discovery Academy in Hyde, and part of our social communication pathway is based at Wild Bank Primary School, in Stalybridge)
Due to the school now having three sites, this means more equipment and resources, including additional minibuses are now required to meet the needs of all the children, which all come at a cost!
Online Shopping Fundraising
We are now registered with Easy Fundraising.  Signing up is really easy. Select Friends of Hawthorns as your selected charity and use the easy fundraising portal when shopping online. Every time you do this, Friends of Hawthorns receives a donation.   For more information about how to sign up click here
If you would like more information about how to set up online fundraising or any ideas you may have, you can contact us by emailing at Fofhcharity@outlook.com. You can also follow Friends of Hawthorns on Facebook and Twitter. See below for more information.
Follow us on social media.