Welcome to Chestnut Class
We are one of the 6 classes that make up the ASPIRE pathway, in Chestnut class we have pupils from year 4 to year 6. The class focuses on individual learners needs and is tailored in its approaches to help each pupil achieve their maximum potential of learning.   We work closely with the pupils giving them tools to help; self-regulate their behaviours and emotions. Our key priorities are supporting pupils to develop their independence, interaction and socialisation skills through a curriculum that helps each child gain the self-confidence they need to be active learners who enjoy the challenge of academia; whilst developing their characteristics to make them well rounded human beings. Through engaging activities and opportunities for role-playing real-life scenarios, we aim for the pupils to leave Pine class with the foundational skills for learning and for life.
The Adults in Chestnut Class are:
| | |
| --- | --- |
|  Name |  Position |
|  Miss J. Birchall |  Class Teacher |
|  Miss D. Mistry |  Teaching Assistant |
|  Mrs S. Buckley |  Teaching Assistant |
As well as developing our independence and socialisation skills, we also cover a wide range of exciting topics to expand our interests in the world around us. Topics have a History, Geography or Science focus. All sessions are hands on and engaging to ensure pupils develop a love for learning.  Each session is differentiated to the individual child just ensure learning is meaning and purposeful to all.
Here are the topics we will cover this year:
| | | | | | |
| --- | --- | --- | --- | --- | --- |
| Autumn Term 1 | Autumn Term 2 | Spring Term 1 | Spring Term 2 | Summer Term 1 | Summer Term 2 |
| All about me? / Under the Sea | The travelling Circus! | On safari! | Castles and Knights | I like to move it! | Amazing explorers |
Here is our weekly timetable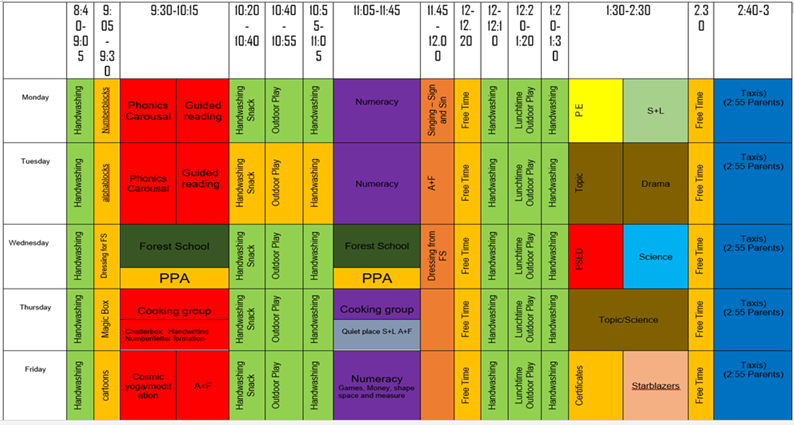 Here's some of the things we love to do in Chestnut Class …
Please see our class twitter page, @Hawthorn_Chest for regular updates of what we get up to.  Click on the icon below to visit our page now.
Please feel free to contact us via the class twitter page above or on our email: chestnut@hawthorns.tameside.sch.uk
Parent App
We also have a parent app, which we use to send out messages, letters and important information.   If you haven't signed up, and would like to, contact school to receive an invitation by email.  For step by step instructions on how to install the app click here